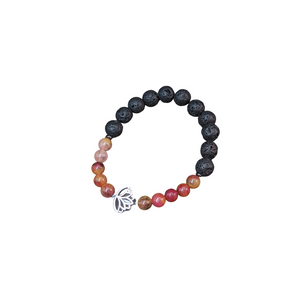 Nail-ish
Gemstone Charm Bracelet
Regular price
$24.99
$0.00
Unit price
per
Agate and lava stone bracelet with lotus flower charm. 
Agate-It transforms negative energy into positive energy. Agate enhances mental function, improves concentration, enhances perception and analytical abilities. It is a soothing and calming gemstone that helps with inner anger, anxiety and helps in the strengthening of relationships. Agate instills security and safety.
Lava stone- Lava stone is said to alleviate anxiety, promote emotional tranquillity and bring calmness and feelings of relaxation. Lava stone is supposed to have very powerful spiritual effects on the human mind. It's said to cleanse negative thoughts and emotions, as well as stimulate creativity.
May also diffuse essential oil on lava beads.
Lotus flower- lotus flowers are also symbols of strength, resilience, and rebirth.
---