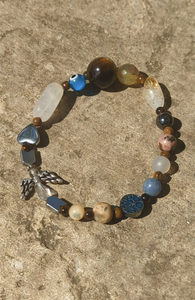 Nail-ish
😇 Guardian Angel Bracelets😇
Regular price
$24.44
$0.00
Unit price
per
😇Guardian Angels Bracelets 😇
These bracelets are in honor of my passed over loved ones 😇. I wanted to release the energy of hurt and sadness but also to honor them with creating something I would wear everyday. I was only going to make it for me. But I was guided to make them for everyone because we all have lossed people that we love. So much energy has went into creating them and the gemstones were picked to match the energy 🌞✨😇 we never really get over the loss of our loved ones. Time just makes it a little bit easier to keep living without them. R.I.P to my family and friends who have loss their lives sooner than expected. And R.I.P to you and your family for the loss of your loved ones as well. A bracelet doesn't replace the emptiness left behind. It is just a reminder that they are always with us.
😇 Angels-spiritual being serving God especially as a messenger or as a guardian of human beings.
➡️⬅️ Arrows(Hematite)-representation of fate and destiny. A symbol of peace. It is used as a tool for hunting and protection.
🎋Tree Of Life- represents the afterlife, and connection between the earth and heaven.
💚Heart (Hematite)- The heart is the locus of physical and spiritual being, and represents the "central wisdom of feeling as opposed to the head-wisdom of reason". It is a symbol for love.
💗Rose Quartz- Love Stone
🧿 🩵Evil Eye- General protection; Broadening your perspective; Solitude and peace.
🐯👁️ Tigers Eye- earth energy with light or sun energy, creating an intense stone that's also well-grounded. Tigereye is said to enhance psychic and empathic energies, while protecting its wearer with an unblinking eye.
💛🤍Agate- transforms negative energy into positive energy. Agate instills security and safety.
💛 Citrine- inner peace, personal power, self-confidence, self-worth, self acceptance, and trusting and accepting our gut feelings.
🩶Hematite- It focuses energy and emotions for balance between the body, mind and spirit. Hematite dissolves negativity and prevents you from absorbing the negativity of others.
🩷Rhodonite-a stone of compassion, an emotional balancer that clears away emotional wounds and scars from the past, and that nurtures love.
🩵Blue Aventurine- clears old, stagnant energies, helping you to open up to inner growth and spiritual work.
💚 Amazonite-It's known as the "gambler's stone," encouraging good luck and fortune. Opens the heart chakra and soothes emotional trauma.
🐚River Shell- shells are known to bring good luck and to protect the spirit of the wearer, and many tribes use them in spiritual ceremonies.
---