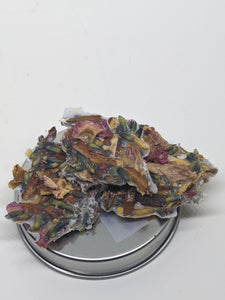 Nail-ish Corporation
Crystal Intention Melts
Regular price
$7.77
$0.00
Unit price
per
Crystal Intention Melts are made of Wax, Herbs, Flowers, 100% Essential Oils, Francincense, Myrrh, White Sage, and Crystals.
Set your intentions, say your affirmations and melt away. Amazing scents and metaphysical properties. If you believe it, it's possible!!
Wax Warmer not included!!
✨Smaller Pieces of cookie🍪, still not a cookie!! 
#1 "Hippy People"
Francincense, Myrrh, Lavender, Rose Petals, Orange Zest, Cinnamon, 100% Essential oils (Orange, Lemongrass, Bergamot, Cassia), Clear Quartz Pieces
#2 "Love Language"
Francincense, Myrrh, Lavender, Orange Zest, Rosemary, Rose Petals, Cinnamon, 100% Essential oils (Orange, Lemongrass, Bergamot, Cassia), Rose Quartz, Snowflake Obsidian, Sodalite, & Selenite
---