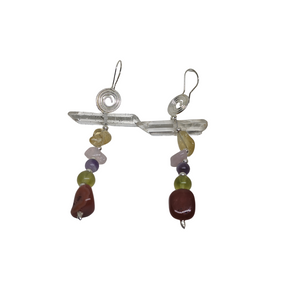 Nail-ish Corporation
Gemstone Ankh Earrings
Regular price
$25.25
$0.00
Unit price
per
Silver plated Clear Quartz, Citrine, Rose Quartz, Amethyst, Jade, Carnelian
The ankh symbol—sometimes referred to as the key of life or the key of the nile—is representative of eternal life in Ancient Egypt. Created by Africans long ago, the ankh is said to be the first--or original--cross. ... Additionally, ankhs were traditionally placed in sarcophagi to ensure life after death.
Clear Quartz- enhances psychic abilities. It aids concentration and unlocks memory. Stimulates the immune system and brings the body into balance. Clear Quartz (Crystal Quartz, Rock Crystal) harmonises all the chakras and aligns the subtle bodies.
Rose quartz- purifies and opens the heart at all levels to promote love, self-love, friendship, deep inner healing and feelings of peace. Calming and reassuring, it helps to comfort in times of grief. Rose Quartz dispels negativity and protects against environmental pollution, replacing it with loving vibes.
Amethyst- is a natural tranquiliser, it relieves stress and strain, soothes irritability, balances mood swings, dispels anger, rage, fear and anxiety. Alleviates sadness and grief, and dissolves negativity. Amethyst activates spiritual awareness, opens intuition and enhances psychic abilities
Citrine- Increases creativity.
Protects you from negative energies.
Activates your intuition.
Helps you to manifest abundance, wealth, and prosperity.
Encourages sharing.
Promotes happiness and joy.
Increases your self-esteem and confidence.
Encourages a positive attitude.
More items.
Jade- A protective stone, Jade keeps the wearer from harm and brings harmony. Jade attracts good luck and friendship. It stabilises the personality and promotes self-sufficiency. Soothes the mind, releasing negative thoughts.
Carnelian- A stabilising stone, Carnelian restores vitality and motivation, and stimulates creativity. It gives courage, promotes positive life choices, dispels apathy and motivates for success. Carnelian is useful for overcoming abuse of any kind. It helps in trusting yourself and your perceptions.
---