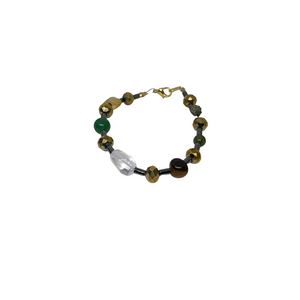 Nail-ish
Money Magic Bracelets
Regular price
$29.99
$0.00
Unit price
per
🤑 Money Grow Money Flow!
💛Citrine- attracts success and abundance.
💚 Green Aventurine- boost opportunities.
💎Clear Quartz- master stone amplifying energy.
🐯 Tigers Eye- instills luck, protects, and ground money.
💚Green Jade- bestows wealth good fortune.
🪙Pyrite- brings prosperity and strength to business.
🖤Hematite Spacers: Hematite has very strong grounding energy; you can feel that just by holding the stone in your hand. It also has a cooling and calming effect, as well as helps develop concentration and focus. Overall, hematite brings a quality of energy that is powerful, strong, and grounding
🎋🪙Ching ching ching goes the money tree. And every time it chings money comes to me. It all flows in so abundantly. From the top, left, right, and up under me. Wave, wave, wave, I'm a money wave. Money flow, money flow, money made. Flowing in and out plus money saved. Debt, debt, debt All debt is paid.
---